Good sunny afternoon y'all!
Here's another post focused on nails, but this time I am sharing the products which I keep by my beside and use fairly often to keep my nails in an OK condition.
I do wish I could be one of those women who treat their nails every evening before sleeping, but to be honest sleep is too high up on my list of priorities to put my nails first.
Although my habits haven't changed for years, by using these products alone or in combination with each other every so often, my nails look better, feel stronger and colour applies so much better!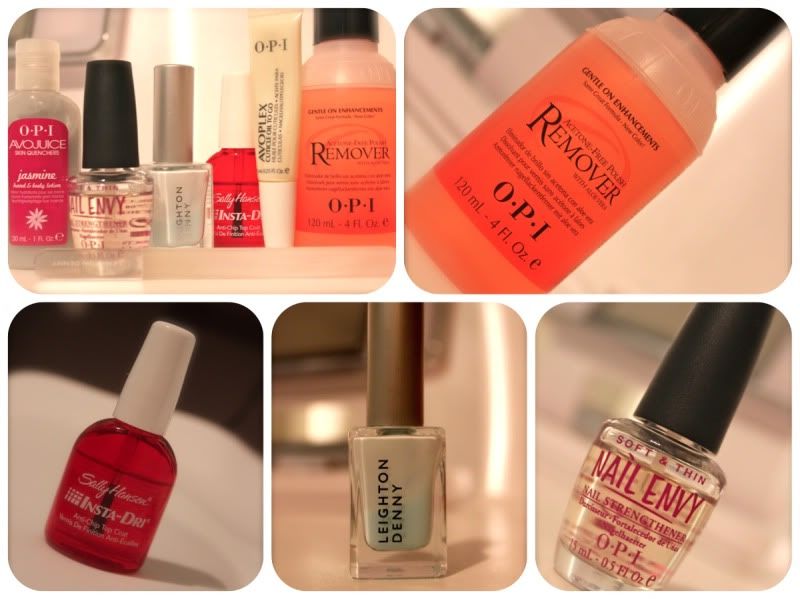 I have 7 or 8 products which i cram into a cute little bag and label as my nail care kit, it covers all needs from nasty cuticles to flimsy and weak nails.
001. OPI Acetone Free Polish Remover in 120ml £7.35 
This is one of those nail polish removers that I have repurchased again and again. If you do have acrylics & gel nails you will want something with Acetone but for everyday nail polish removal needs this remover is perfect for me for the fact it doesn't make my nails worse than what they were before. Whilst you might think without Acetone it's removal power must be rubbish I actually am able to have got every bit of polish off, and my natural nail is in a good condition after. You don't need a lot of this stuff either, which is not what i've found with cheaper alternatives. For those with acrylics or nail embellishments you need to get off, there is also an Acetone version available.
002. Sally Hansen Insta-Dry Anti Chip Top Coat £5.99
I am still using my first ever bottle purchased of this great top coat. In the past I was a bit of a nail polish snob, having grown up with OPI and Nails Inc, I only every brought from these brands. But around two years ago having discovered the hype around Sally Hansen (& her fabulous Complete Salon Manicure colour), especially in America I took the plunge and ditched my old OPI top coat. I must say the main seller for me with this top coat is the 'Insta-Dry' factor. As mentioned in a previous post I hate waiting for nails to dry, so after applying your colour, layer this thinly on top, wait 30 to 60 seconds and your nails are good to go.
003.
Leighton Denny Remove & Rectify Cuticle Remover £11.00
Cuticles are often overlooked when doing your own manicure, but when you get your nails professionally done, you'll often as a result be told 'Your cuticles are in bad shape' (well i know it's happened to me). Before this product came along I never knew how to really take care of cuticles apart from applying oils. By applying this product to the nail and cuticle area, you will find that there is a lot of dry and dead cuticle that can be removed. It's pretty amazing to see how fabulous your cuticles look after use too, they're no longer dry or neglected and affecting the look of your manicure. If your cuticles are kept moisturised and trimmed then you will no longer be subject to annoying and sometimes painful hangnails.
004. OPI Nail Envy Nail Strengthener for Soft & Thin Nails £18.55
At nearly £20 for a nail treatment, which is nothing special in it's appearance there will be many people who will have put this in their (virtual or physical) shopping basket and then thought better of it. The OPI Nail Envy range must be one of OPI's best developments. I don't know how it works, except that it provides the nail directly with calcium, but this treatment feeds your nails the best food that it could wish for, and as a result your nails are left feeling stronger, and not so shocking on those days where disguising your nails with coats of colour is not an option. OPI have created different formulas for different nail types. I use the Nail Strengthener as I do like to use gel polishes, and have had acrylic damage in the past, which has thinned my nails out and affected their growth. Within a few weeks of using this you really will see the difference, and you can even use it as a base coat.
005.
OPI Avoplex Cuticle Oil To Go in 7.5ml £9.60
This handy travel sized tube of the OPI Avoplex Cuticle oil, keeps your cuticles hydrated and your nails looking in great shape. Apart from an aeroplane mishap where i took this in my carry on luggage and it didn't react well under the cabin pressure, resulting in losing a lot of product, this small 7.5ml size has lasted ageees! You don't need much, and if you over apply you can be sure to move it around with handy built in application brush. You'll nails will love this, and whenever you are in a public transport or flight situation and bored this is a great on the go treatment for the nail and cuticle which doesn't see much moisture or is constantly washing up. You can even get the standard 15ml bottle to keep at home, and then this smaller size can be kept in your handbag. 
006.
OPI Avojuice Skin Quenchers hand & body lotion in 30ML  £2.25
If you like fruity and invigorating scents this product is for you. The OPI range of Skin Quenchers can be brought in this small tester size, perfect for travel or in bigger tube and pump sizes. Coming in a range of different scents such as Coconut and Melon, Cranberry, Jasmine and Mango these make such great gifts and can be used for both hands and body. The product is not of a thick consistency and they are absorbed nice and quickly into the skin, so if you don't like residue or greasiness lying on your skin after moisturising these are great. 
007. Tweezerman Cuticle Nipper £18 & Leighton Denny Small Crystal Nail File £12
Whilst this stainless steel tool may look slightly intimidating, it's not for use on the nails themselves. It is infact created for taming unruly cuticles that have out grown themselves or hangnails which are causing discomfort. I have been told by a nail technician that if you are going to tackle cuticles yourself you need to know what you are doing. Well yes, however I taught myself. With this tool which you will never need to replace (due to Tweezerman's great consumer policies) cuticle nipping is pretty simple and ensures you get as close as possible to where the cuticle meets the nail bed. It also transforms the look of your nails!
Whilst more expensive than your normal emery board, this nail file from Leighton Denny is made of crystal! Whilst I have owned nail files in the past made from glass & crystal, which have snapped in travel & left me annoyed I ever spent the money on them, this particular nail file enables me to file in both directions to shape my nails, and can be re-used time and time and time (you get the idea) again. It's available it different sizes, for different prices but it's my main nail file and I will always go back to it. 
I pack all of these goodies mentioned in to a quilted Nails Inc bag which I received years ago as a Christmas Gift. 
Whilst we are at the end of what seems like a marathon post, sorry for that, I hope i've offered you an insight into my nail care routine, with affordable and functional products. Whilst i'm not obsessive about keeping my nails in good shape, as long as I use these products fairly regularly my nails don't normally disappoint me! 
Do you have any nail care products which you can't live without? 
Keep checking back for some high-end skincare soon!